Chinese Courses
UC Davis Chinese curriculum consists of four major modules of courses: Modern Chinese (Mandarin), Classical Chinese, Chinese linguistics, and Chinese literature and culture. Additionally, advanced level students also have opportunities to take Chinese Tutoring (CHN 197T) to practice Chinese and develop communicative and interpersonal skills as a Chinese tutor.
Learn more about EALC and what we have to offer at https://linktr.ee/ealc_ucdavis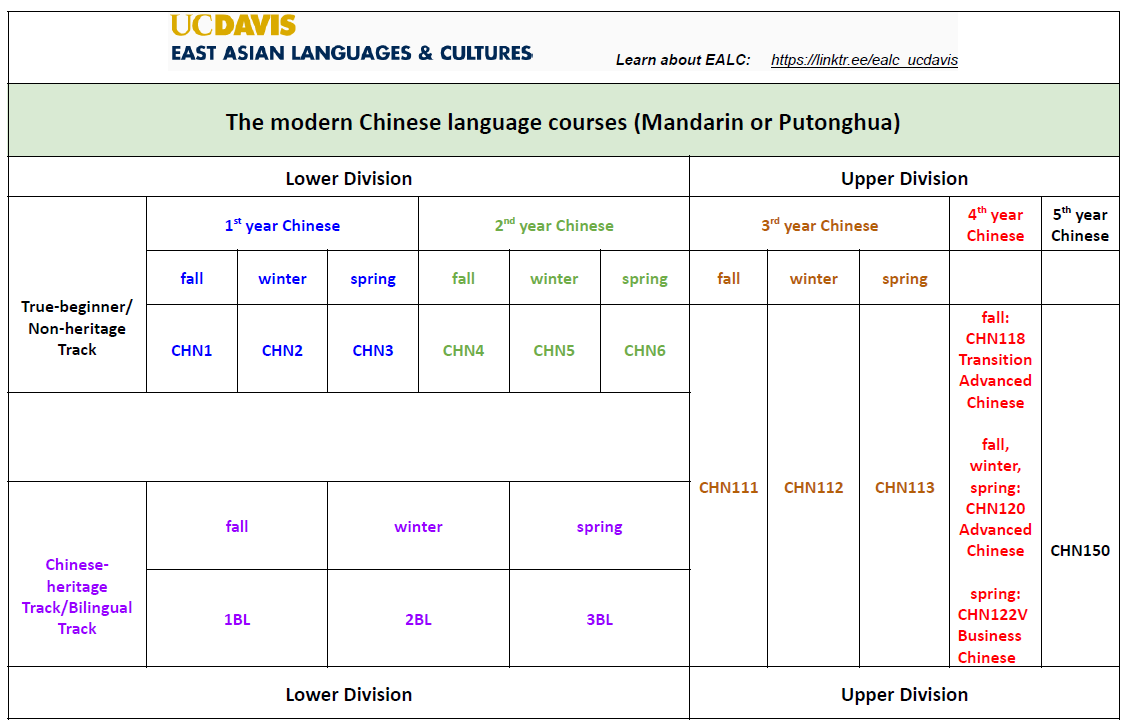 Modern Chinese classes
The modern Chinese language (Mandarin or Putonghua) courses sequence from first-year beginning level to fifth-year advanced level. The beginning level courses are regularly offered in two tracks to better teach students with different Chinese backgrounds: The "true-beginner" track (CHN 1, 2, 3, 4, 5 & 6) and "heritage-student" track (CHN 1BL, 2BL & 3BL). When the pedagogical needs emerge, the third track "Mandarin for dialect speakers" courses (CHN 1CN, 2CN and 3CN) are also offered. Different tracks merge in the upper-level classes (CHN 111, 112, 113; 120 and 150). 
Students should take the Chinese Placement Evaluation to take modern Chinese language courses. According to the test result, you will be directed to the appropriate course for your level.
Classical Chinese classes
CHN 114, 115, 116, a one-year Introduction to Classical Chinese course series, are offered at UC Davis. In these classes, students will read texts and texts excerpts selected from classical Chinese writings of authors of Pre-Qin to Qing. The focus will be on laying a basic foundation of Classical Chinese grammar and vocabulary and developing competence in comprehending classical texts. Additionally, core issues of culture and history of ancient China that relate to the texts are also discussed.  Students completing CHN 112 would be ready for this course series.
Linguistics class
Currently one linguistics course, "CHN 160: The Chinese Language," is offered once a year. This course is in general NOT a Chinese language skill course like CHN 1, 2, 3 or 113, 120 etc. It is a lecture-based theory and knowledge course ABOUT Chinese language, especially its internal organization. The course introduces fundamental characteristics of the structure of Chinese sound system, word formation, grammatical constructions, and writing system (i.e., characters). Issues of language variation, especially standard and non-standard Chinese, and relevant historical and social background of Chinese are also discussed. CHN 160 is required for the major. To take CHN 160, students must have successfully finished CHN 6, 3BL or 3CN, or have an equivalent Chinese competence.  
Literature and Culture Classes
We offer regularly a series of Chinese literature in English translation course: CHN 101 (film), CHN 103 (modern drama), CHN 104 (modern fiction), CHN 106 (Chinese poetry, required for majors), CHN 107 (traditional fiction, required for majors), 109G (Taiwan literature), 109H (popular culture), 109C (women writers), and CHN 110 (great writers of China). We also offer three lower-division courses: CHN 10 (modern Chinese literature), CHN 11 (traditional Chinese literature), and CHN 50 (literature of China and Japan).  No prior knowledge of Chinese culture or language is required for taking these courses. Students read representative works of Chinese fiction, poetry, essays, film, and drama in English translation. There is no prerequisite for any of our literature-in-translation courses.