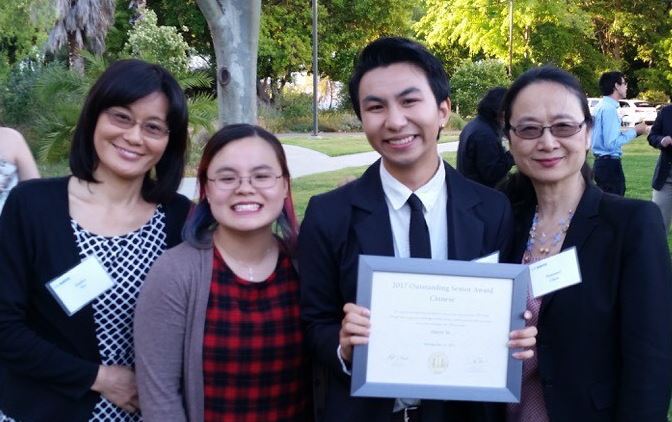 Class of 2017 - Triple Major in Chinese, Japanese & International Relations
Coming to UC Davis in 2013, I did not know I was going to embark on a journey with the Department of East Asian Languages and Cultures. I came in as a freshman majoring in International Relations. I had issues getting into my major prerequisite classes and ended up enrolling in several Chinese courses because my advisor informed me that many courses from the Chinese and Japanese departments can be used for my major. I fell in love with the atmosphere of the courses and the material that I was learning. As an ethnic Chinese person who grew up in the United States, the Chinese classes here exposed me to historical and cultural knowledge that I hardly knew about before. Also, because of the small class sizes I felt like I was in an intimate environment that I could not get in other departments' classes. It was then that I decided to double major in Chinese and International Relations.
In creating my academic plan, the Chinese and Japanese major peer advisor informed me that my double major would not give me enough units to graduate since I had tested into advanced level Chinese language courses. She encouraged me to add another major so I decided to add Japanese because I had always wanted to learn Japanese since I was a child. I decided to do a triple major in International Relations, Chinese and Japanese.
By being involved in the Chinese and Japanese departments I was given opportunities to become peer advisor and tutor for both departments, in addition to becoming a Chinese language teacher at two local weekend Chinese schools, leading me to discover my passions for teaching and foreign language pedagogy. I completed my senior honors thesis, The Relationship Between Chinese Language and the Formation of Chinese-American Identity, which I plan to expand in the future when I attend graduate school. For now, I am taking a break to further explore my own identity and expand my horizons. This upcoming school year, I will be teaching English at a high school in China.
I sincerely hope that more students become interested in the EALC department and that more opportunities will come to with a passion for learning about East Asian languages and cultures.