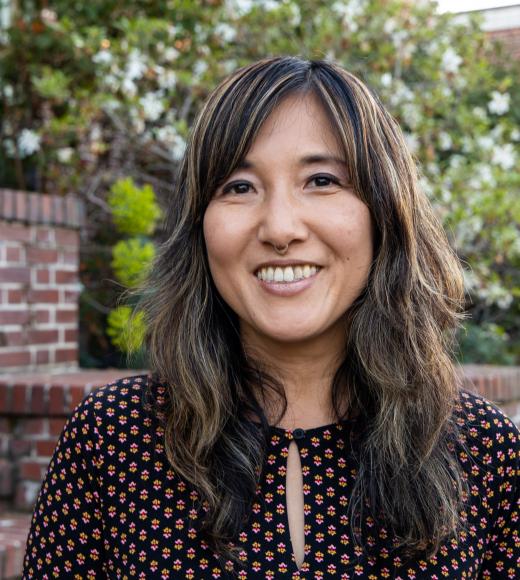 Position Title

Lecturer of Japanese Literature
Bio
I began my journey in academia as Associate Professor of Japanese at Wesleyan University in 2007, where I taught modern Japanese literature and culture courses for almost a decade. During my time at Wesleyan, I published my first book, Monstrous Bodies: The Rise of the Uncanny in Modern Japan (Harvard University Press, 2015), which examined the rise of newly imagined monsters—doppelgangers, robots, evil twins, and hybrid bodies—in Japanese fiction and scientific writings from the 1880s through the 1930s. I use the term "monsters" to connote bodies that provoke a specific kind of fear arising from the confusion of the binary of the "normal" and the "abnormal," a binary that sciences like eugenics and psychology created in the modern era.
My current project Maid Manifesto: Affective Labor and Female Domestic Laborers in Modern Japan was born from the last chapter of my first book, which was on female robots. If any body was marked as "abnormal" in imperial Japan, it was the female body, especially that of the lower class. By wedding feminism and neo-Marxism, I am eager to shed light upon the understudied figures of the maids and housekeepers, for they were integral part of the modern Japanese household. By shifting the attention to the non-biological female domestic laborer, I also hope to challenge the widely accepted view of the biological mother as the center of the modern family.
As an alumnus of UCLA, where I did my undergraduate training, I am very excited to teach and give back to the diverse community that the UC system attracts!
Education and Degree(s)
Ph.D., Japanese Literature/Ph.D. Minor, Comparative Literature, Stanford University
M.A., Japanese Literature, Columbia University
B.A., French Literature and Linguistics/ B.A., East Asian Languages and Cultures, University of California at Los Angeles
Honors and Awards
Associated Kyoto Program Visiting Fellow Fellowship (2015)
Japan Foundation Fellowship (2014-15)
Northeast Asia Council of the Association for Asian Studies Research Grant (2012)
Mellon Foundation Summer Research Grant (2010)
Wesleyan Center for the Humanities Faculty Fellowship (2009)
Mellon Foundation Dissertation Fellowship (2006-7)
Stanford Freeman-Spogli Institute Japan Dissertation Fund (2005-6)
Centennial Teaching Assistant Award (2005)
Fulbright-Hays Doctoral Research Fellowship (2002-3)
Courses
Heroes and Antiheroes (JPN105)
Modern Japanese Literature in English (JPN103)
4th Year Japanese (JPN135)
Research Interests & Expertise
Modern Japanese literature
Japanese cinema
Japanese popular culture
Horror and Fantastic Fiction
Women's literature and gender studies
Neo-Marxism
Minorities in literature
Publications
Monstrous Bodies: The Rise of the Uncanny in Modern Japan (https://www.hup.harvard.edu/catalog.php?isbn=9780674504325) Cambridge, Harvard University Press, 2015.
"Buffalo Bill Meets Madame Butterfly: War and Orientalism in Silence of the Lambs," Cynthia Miller, Ed., The Silence of the Lambs: Critical Essays on a Cannibal, Clarice, and a Nice Chianti (Rowman & Littlefield, 2017), 145-58.
"The Cult of Happiness: Maid, Housewife, and Affective Labor in Higuchi Ichiyō's 'Warekara'." Journal of Japanese Studies, Vol. 41, No. 1 (February 2015): 45-78.
"Monstrous Language: The Translation of Hygienic Discourse in Izumi Kyōka's The Holy Man of Mount Kōya." Indra Levy, ed. Culture of Translation in Modern Japan (Routledge, 2010), 165-85.
"Horror and Machines in Prewar Japan: The Mechanical Uncanny in Yumeno Kyūsaku's Dogura Magura." Ed. Christopher Bolton, et al. Robot Ghosts and Wired Dreams: Japanese Science Fiction from Origins to Anime (Minneapolis: University of Minnesota Press, 2007), 3-26.
"Marking Bodily Differences: Mechanized Bodies in Hirabayashi Hatsunosuke's 'Robot' and Early Shōwa Robot Literature." Japan Forum 19:2 (July 2007): 169-190.
Maddo saientisuto no kodomotachi—Shōwa shoki no jinzō ningen bungaku to yūseigaku (The Children of the Mad Scientists—Early Shōwa Robot Literature and Eugenics). Ed. Yoshida Morio and Nakayama Akihiko. Kikai=Shintai no politīku (Machines=Body Politics) (Tokyo: Seikyūsha, 2006).