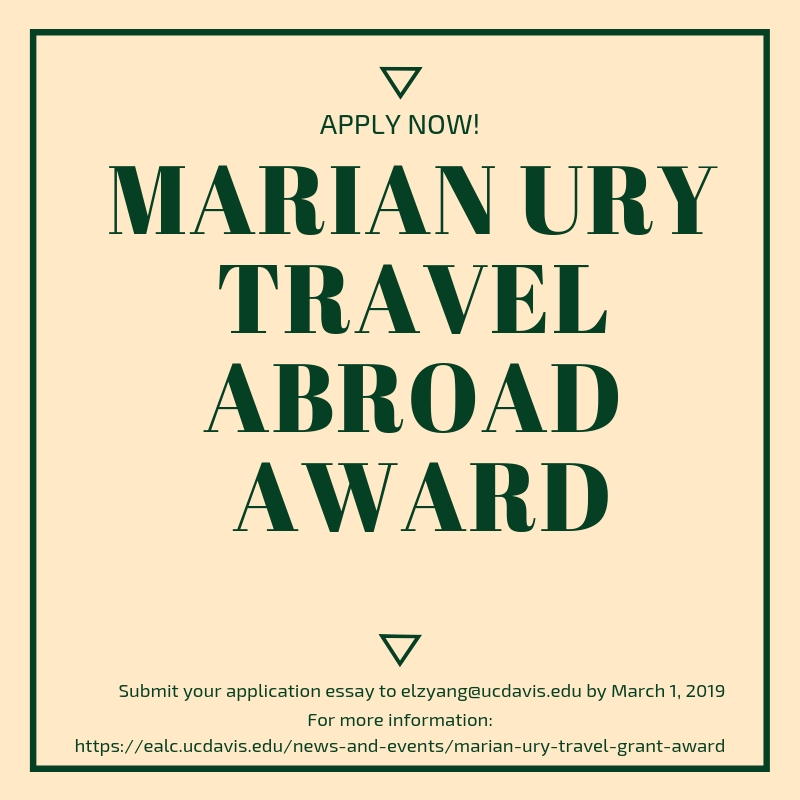 The Department of East Asian Languages and Cultures at UC Davis is fortunate to be able to award scholarships to students traveling to Japan for internship or study.  This year we are offering five awards of US $600 each.  Applications and selection occur in the Winter quarter for travel any time during that calendar year.  JCHIP and Kyoto Quarter Abroad participants are especially encouraged to apply, but students involved in other programs judged to have merit will be given equal consideration.  Scholarships take the form of reimbursement after returning from abroad. 
Marian Ury (1933-1995) was a native of Chicago, and earned her Ph.D. at UC Berkeley prior to her long tenure as Professor of Comparative Literature at UC Davis.  She specialized in medieval Japanese literature, and her translation Tales of Times Now Past (Konjaku monogatari) is still widely read today.  The scholarship is funded by an in-memoriam endowment generously given the Department of East Asian Languages and Cultures by UC Davis Professor Emeritus Robert Borgen, and CSU East Bay Professor Emerita Sophia Lee.
Applications for 2019 are currently open and will close Friday, March 1.  To apply, please submit a short essay (no more than 250 words) in which you explain:
1) your objectives for participating in a program in Japan, and
2) how the financial assistance provided by the Ury Award will help you accomplish your objectives.
Please be sure your name, contact information, and proposed program are clearly indicated on your essay, which you need to send to Lizzie Yang by March 1.  Awards will be announced in early April.